InCollect - 3 Stunning Ceramic Artists Together At Donzella's CLAYFORMS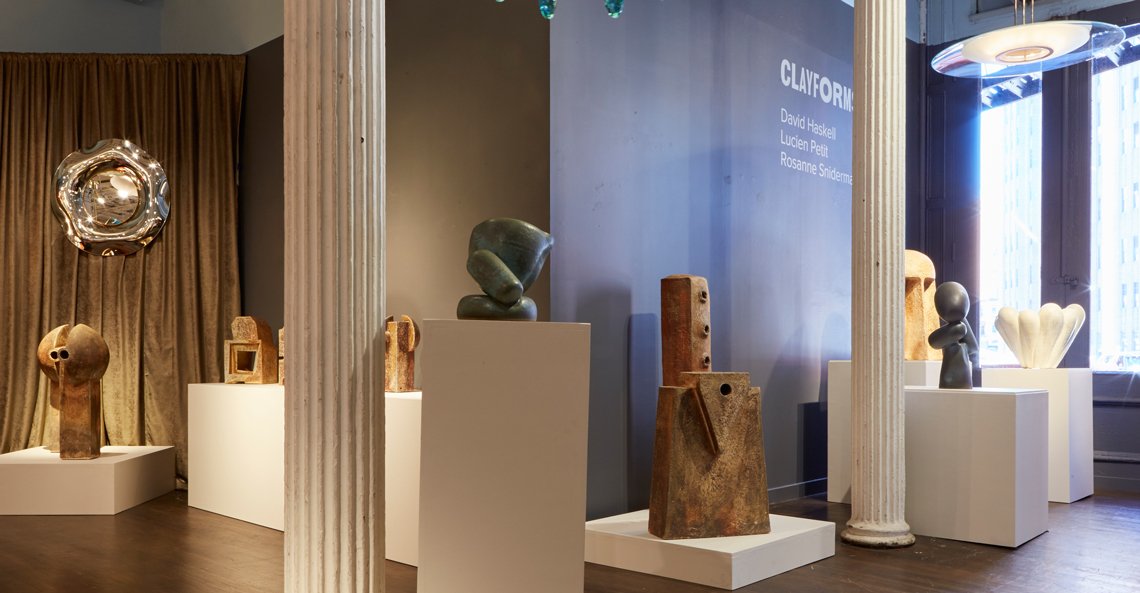 CLAYFORMS at Donzella; photo by Eric McNatt.
PRESENTS
For Paul Donzella, owner of the Tribeca gallery that bears his name, collecting ceramics as works of art, rather than for utilitarian purposes, elevates the medium to its rightful place. Rather than for practical, albeit aesthetically appealing uses such as vases and bowls, he has been offering ceramics as sculptural forms since the 1990s. Displayed in his gallery vignettes — as they would be in his client's interiors — they play off the equally sculptural profiles of the furnishings, evoking a sense of mystery and sensuality.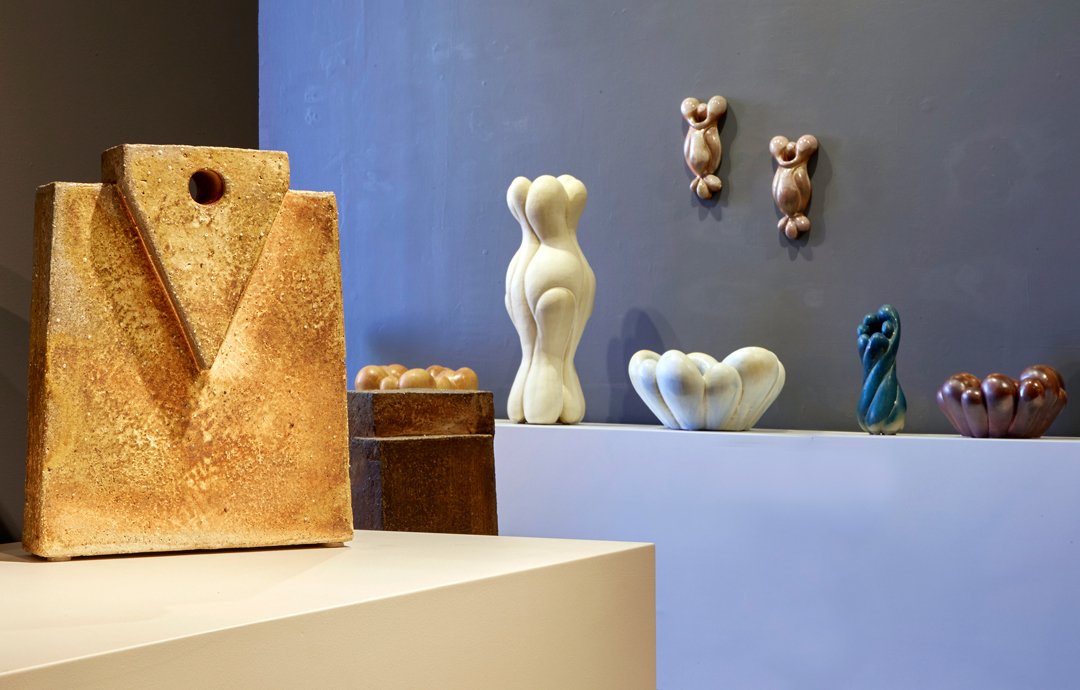 At left, Encastrure #5 by French ceramic artist Lucien Petit, with a grouping of pieces by New England-based ceramicist Rosanne Sniderman; photo by Eric McNatt.
CLAYFORMS, an exhibition of three divergent interpretations of the artform, celebrates diversity in form, mass, color and texture. Each artist's work is informed by their technique, ranging from the almost crusty surfaces of Lucien Petit's monolithic forms, to the sleek, satiny surfaces of Rosanne Sniderman's sensual, anthropomorphic pieces, and David Haskell's matte organic shapes that juxtapose balance and imbalance.
Lucien Petit, La Face Cachée de la Lune #23, (The Dark Side of the Moon), 2017.  
Wood-fired glazed stoneware sculpture, photo courtesy of Donzella. 
Lucien Petit was born in Sancerre, France in 1957, and now lives and works outside of La Borne, France, a center for ceramics since the 13th century. His early work consisted of small houses and shelters, inspired by the dwellings of southwest Native Americans and the ancient clay structures of Timbuktu. His work has evolved to an abstraction of that theme, evoking non-representational images of architectural constructions — monolithic dwellings and structures rising from the earth. Through much experimentation, Petit has developed his artisanal technique, with varied mixes of oak and hornbeam in a wood-fired kiln, lengthy firing times — typically 5 days, a proprietary clay body featuring the renowned local clay mixed with quartz and feldspar, and additional mineral material on the outer surfaces. The resultant works brilliantly juxtapose organic surface with inorganic form.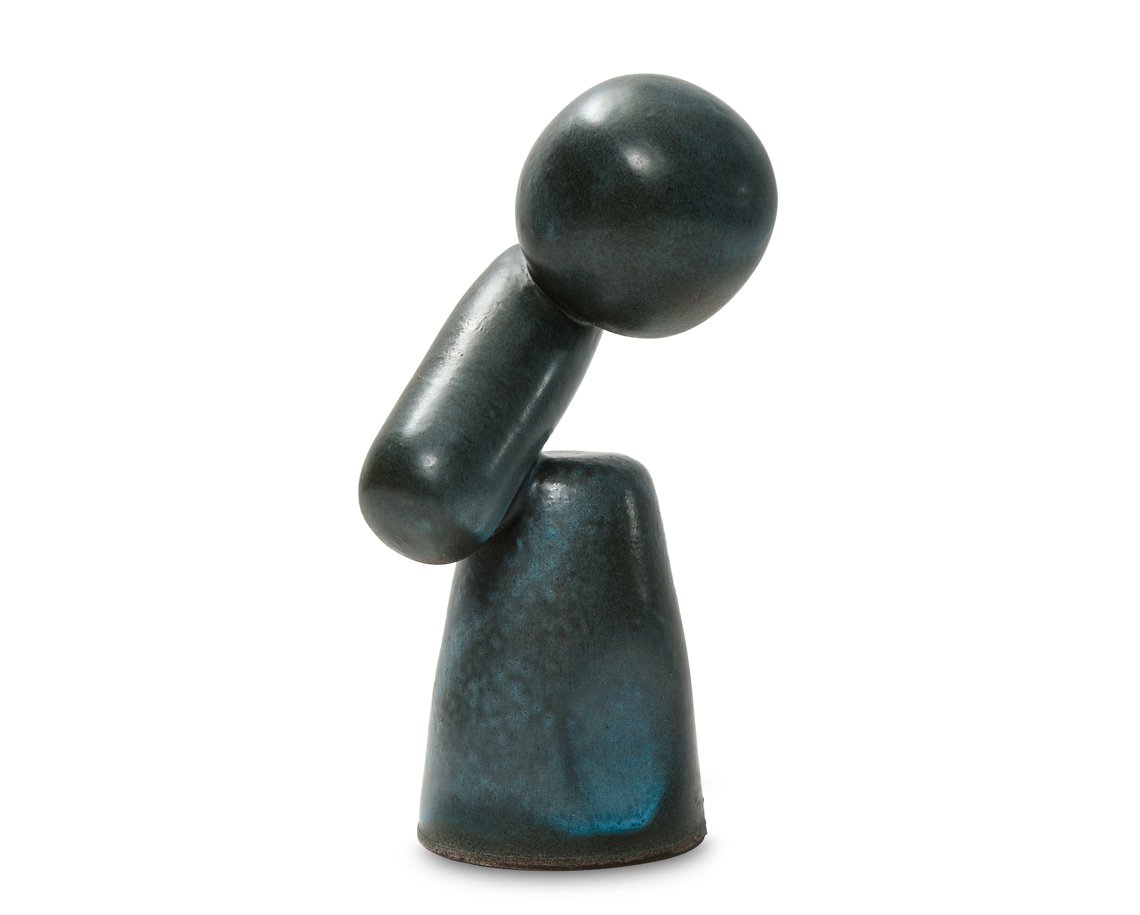 David Haskell, 3 Piece Assemblage Sculpture #1, 2018.  
 Wheel-thrown hand-molded cantilevered sculpture; photo courtesy of Donzella. 
In 2015, David Haskell was creating pots for cacti — you bought them as a unit — and the plant sometimes dictated the form, and sometimes the opposite was the intent. Flash forward three years, and the cacti have, figuratively, morphed into the forms themselves, echoing the branching protuberances of the saguaro cactus, the fleshy paddles of a prickly pear cactus. His asymmetrical assemblages recall the serene balance and improbable imbalance inherent in the growth spurts seen in the natural world. Haskell also creates both wheel-thrown and hand-molded rock forms with smooth irregular shapes and scattered dimples, some with bubbly green glazes, some highlighted by spills of matte teal glaze that overflow, or collect in a lovely puddling fashion.
Rosanne Sniderman, Untitled Vessel, 2018. Monumental stoneware vessel with cream colored glaze; photo courtesy of Donzella.

Rosanne Sniderman's works beg to be stroked, so compelling is their sensual appeal. She began as a traditional ceramic artist, exploring the functional language of clay by producing pots. Although her expression is now largely abstract, the theme of vessel continues to inform her work, with twining, enrobing shapes that owe twin debts to the Art Nouveau movement and the natural world. Although Snidermans's work is not in the least derivative, there's a sense that if Georgia O'Keeffe were a ceramic artist, this could be her work. She has also recently begun producing cast porcelain vessels meant to be hung on a wall, whether indoors or in a garden. Her glazes, sometimes delicately milky, sometimes richly glowing, all have a bloom about them that heightens the seductiveness of her work.

By Marianne Litty
---